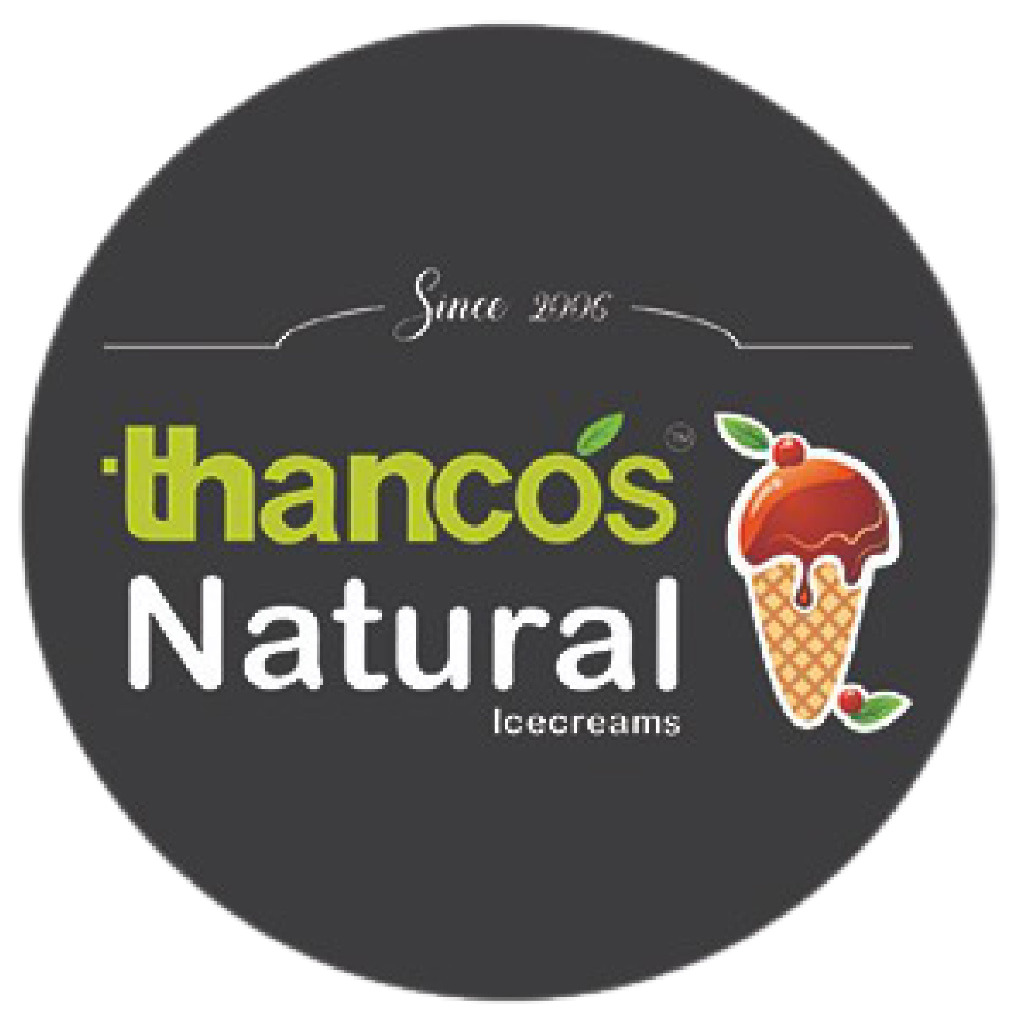 Thancos Natural Ice Cream
This journey started in the year 2006 and still going on in exciting and challenging way. Thanco's Natural Ice Cream with one franchise outlet in the year 2009 we have opened 80+ franchise outlets across India till date. We would not have been able to achieve this without the quality and healthy product and "YOU". We are sure, with all your same continuous support we will be able to become the No. 1 natural's ice cream in Bangalore and all over India.
As we are one of the major players in Naturals Ice Cream segment and by adding outlets day by day, we are becoming one of the best ice cream brands of India which is big threat to major International and National ice cream brands.
Our variants are so wide, and Nature inspired, that its literally impossible for the mass player to compete us in this competitive world. We serve 80+ types of naturals ice cream flavours and we also developed special segment of sugar free ice creams for the customers. The main credit goes to Mr. Raghavendra K. Thane, who has taken all the odd challenges, and his vision to provide natures gift in the form of naturals ice cream to people, has really succeeded in today's competitive market and is the best ice cream brand. With his business vision, today he has created good employment and entrepreneur opportunity to many youngsters and has become role model for many enthusiastic entrepreneurs. His approach towards the business has made many proprietary business holders think towards the approach of Ice cream business. Thanco's Natural Ice Cream has the appreciation as the only company from Bangalore who supplied Ice Cream to the Global destination using its state of art technique.
Thanco's Natural Ice Cream has its factory in Bangalore and supply across India with specialized cold storage logistic to serve consumers. Our products are so fresh that it is just manufactured to serve you. As we always know that the people who are health conscious are also more conscious about the hygiene at store, so as our outlets are well designed with state of art looks and maintained hygienically to feel you more comfort and royal.
We also designed a model which serves not only the scoops of naturals ice cream but also the products like Sundae's ice cream, Stone ice cream, Rolls ice cream, Milk shakes, Waffles ice cream, etc. This flagship model is nothing but a Thanco's Naturals Ice Cream experience outlet which serves naturals ice cream in the way that a customer wants. 
Thanco's Natural Ice cream has been renowned in the Indian market since 2017. Thancos Natural Ice Cream got the "BEST ICE CREAM PARLOUR OF THE YEAR" Award in Restaurant Awards 2018 and the "ICE CREAM FRANCHISOR OF THE YEAR" in Franchise India Awards 2018 in the 16th Awards for the Excellence in Franchising and Business Development. Thanco's Natural Ice Cream also got the "BEST CREATIVE CONCEPT OF THE YEAR 2017" award in  Restaurant Awards 2017 the "ICE CREAM FRANCHISOR OF THE YEAR" in Franchise India Awards 2017 in the 15th Awards for the Excellence in Franchising and Business Development.
And the day to come, you will see more Thanco's Natural Ice Cream in every niche location and dominating the major niche Ice Cream segment.
We are into FOFO Model
| | | | |
| --- | --- | --- | --- |
| Model | Kiosk | Parlour | Flagship |
| Space | 300 Sq.ft. | 300 -750 Sq.ft. | 750 – 1500 Sq.ft. |
| Setup Cost | 13 Lakhs | 18 Lakhs | 49 Lakhs |
| Franchise Fee | 04 Lakhs | 05 Lakhs | 05 Lakhs |
| Total Investment | 17 Lakhs | 23 Lakhs | 54 Lakhs |
| ROI | 14 – 16 Months | 15 – 17 Months | 18 – 24 Months |
| Royalty | 0% | 0% | 0% |
As per government rule GST will be applicable on each payment
Interior Cost is variable, which is depends on design and area size (Sq.ft.)
Contact for Thancos Natural Ice Cream
Products / Services
1.1 Pizza 
1.2 Burger 
1.3 Sandwich 
1.4 Pasta 
1.5 Garlic Bread 
1.6 Zingy Parcel
1.7 Chocolava Cake
1.8 French Fries 
1.9 Calzone Pocket
1.10 Mock-Tails 
1.11 Shakes
1.1 Why Mapango Pizza Franchise?
1.1 Lowest investment business opportunity with high returns.
1.2 Proven franchise model, success since 2020.
1.3 Experienced management operating multiple restaurants.
1.4 Extensive guidance & operational support provided.
1.5 Ongoing business consultation.
1.6 Chef-less & Zero Wastage business model|

1.2 How will I get chefs? Who will pay their salaries?
A: Firstly, lets understand that we don't require any skilled or highly experienced chef as our business demand is more of a food assembling work rather than a full cooking process. That's the reason, we often call our business as Chef-independent business model. We suggest our investors to hire staffs (fresher or any experience) from their local area within the salary range of Rs 6,000 to Rs 15,000 who will be trained by the trainer of Mapango Pizza. Not to mention, investors will bear the salaries of all staffs including the trainer of Mapango Pizza.
Contact for Thancos Natural Ice Cream