Back in November 2021, a food enthusiastic woman entrepreneur with a dream of starting her own enterprise and reforming fast-food culture in her city, set up a QSR in Jabalpur. The brainchild of Mrs. Ruchi Sharma,The Paninis is the fulfilment of a great Indian dream of having an in-house brand of authentic paninis.

We are home grown QSR chain, bringing authentic paninis, developed according to Indian taste. We have always believed in quality and taste. Our innovation and service has always kept us in the heart of customers. A team of passionate minds, never leaves any stone unturned to bring out the best from the kitchen.

The Panini's has made a niche among the customers with their unique taste, affordability and service. Our Vision is to develop The Panini's as a brand having wider acceptability among the customer. The Panini's is aiming to reach corners of India, developing as reliable and desirable brand among the consumers.
Contact for The Panini's​
| | | |
| --- | --- | --- |
| MODELS | TAKEAWAY | CAFE |
| Total Carpet Area in SQFT | 300 Sq.Ft | 500+ Sq.Ft |
| Interior & Fit Outs | 200000 | 540000 |
| POS & IT, Sound System | 60000 | 75000 |
| Kitchen Equipment | 300000 | 375000 |
| Software & Licence | 15000 | 15000 |
| Franchise Fees | 350000 | 350000 |
| Inventory | 75000 | 100000 |
| Initial Marketing Cost | 50000 | 50000 |
| Project Cost (Approx) | 10,50,000 | 15,05,000 |
As per government rule GST will be applicable on each payment
Interior Cost is variable, which is depends on design and area size (Sq.ft.)
Location Assistance & Property Finalization :
We will help you with finding the best property at the best location to start the business. We have good network to assist you with the same
Complete Store Development :
Once we have finalized the property, our seamless process help you with the development of the store.
Tie up with all online Aggregrators and Licence :
We will get all the tie ups done with Zomato / Swiggy to get you onboard.
Central Ordering System For Raw Material :
Complete supply chain with central ordering system is taken care by us.With our inventory management system, you can be rest assured that you will never feel any issue in supply chain.
Manpower and Training Support :
Complete trained staff and recruitment will be take care by us through out the operations. All required training will be provided as required through various modes.
Analytics and Data Support :
We will provide you with all the required data and analytics , so that you have complete understanding of the business and we will have more logical approach for the development.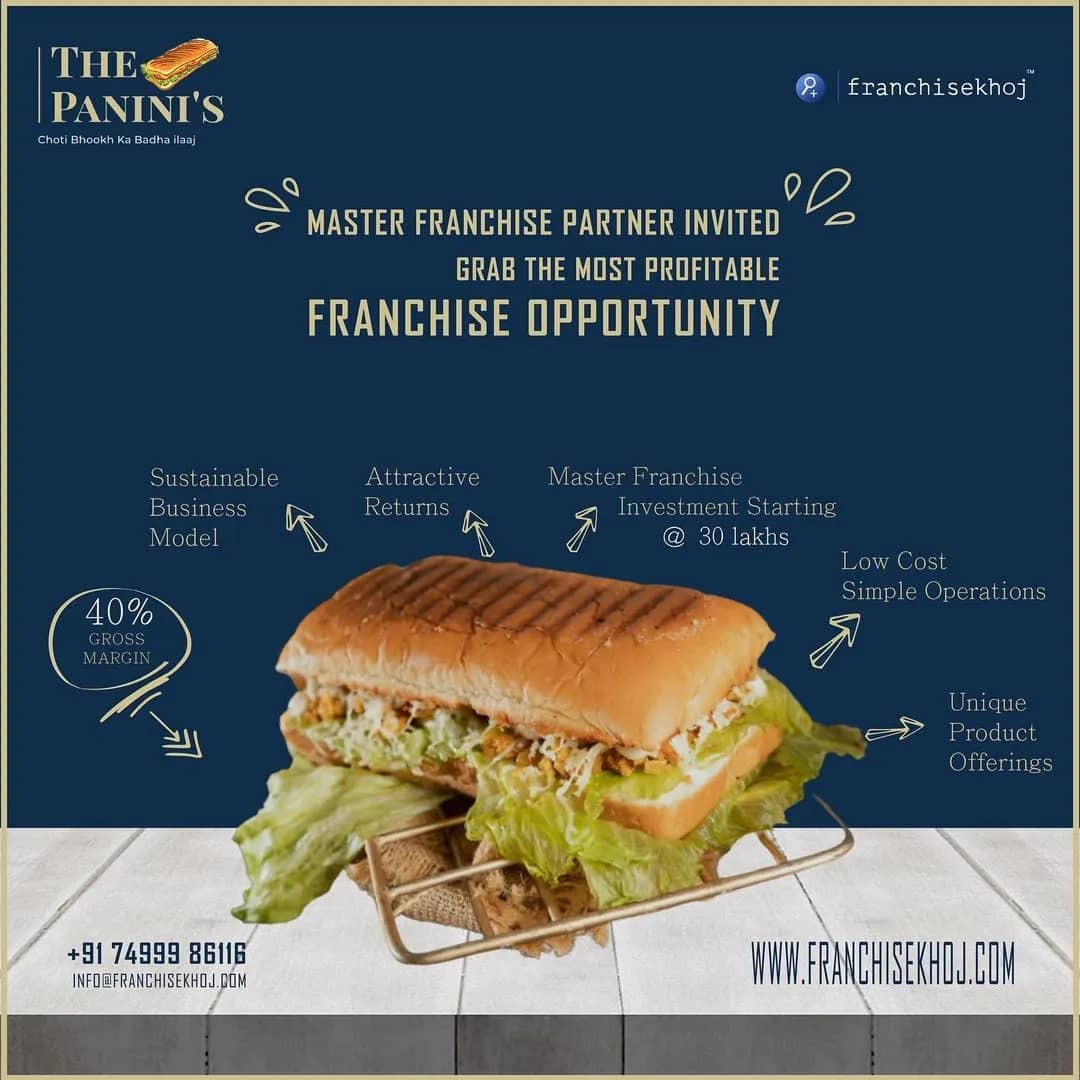 Contact for The Panini's​